East Tucson Campus
8495 East Broadway Boulevard
Tucson, AZ, 85710
Eastpointe High School
East Tucson Campus
8495 East Broadway Blvd, Tucson, Arizona 85710
East Tucson Campus
8495 East Broadway Boulevard
Tucson, AZ, 85710
Eastpointe High School
East Tucson Campus Location
Our East Tucson Campus is considered our main campus providing all three of our publicly funded programs; our Traditional Program, Rise Up and Graduate, and our Leading Ladies Program. Conveniently located at Broadway and N. Camino Secco, it provides a safe and secure environment for our teens to excel.  East Tucson is known for it's homes with families so the location is easily accessible to those who need access the most. Call today and schedule a tour and see why so many families have chosen Eastpointe High School to help their child succeed!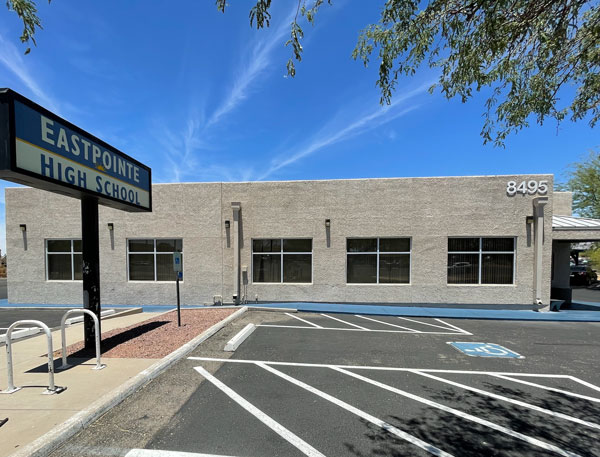 Academic Programs at East Tucson
All Eastpointe High School programs are completely free,
offering publicly funded Credit Recovery solutions for at-risk students in Arizona.
8:30 AM – 1:30 PM
Small Class Sizes
Interesting Courses
Mentoring
Personalized Instruction
(Credit Recovery Program)
8:00 AM – 4:00 PM
Blending / Hybrid Learning
Flexible Schedule
Mentoring
Personalized Instruction
Creating a world where all young women, regardless of their background, have the opportunity to access the skills, knowledge, and self-determination to succeed. 
Contact Eastpointe High School