Eastpointe High School
College and Readiness Program
Graduating Is Only the Beginning of Your Journey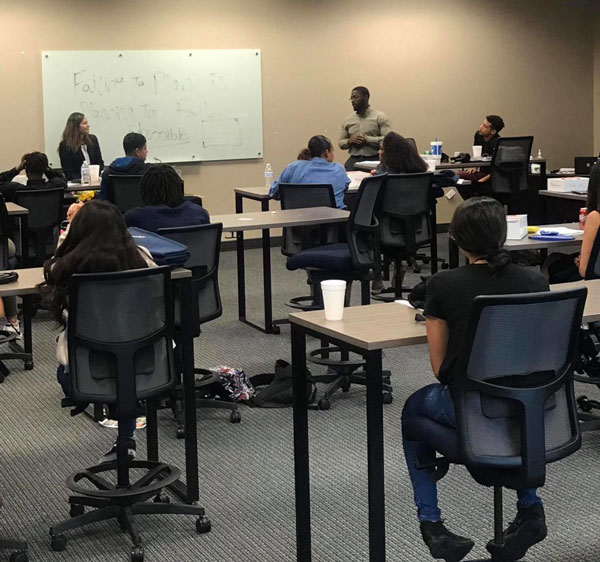 Eastpointe High School's College and Readiness Program for Students in Tucson and Phoenix.
We know graduating high school is only the beginning of your journey. Eastpointe's College and Career Readiness program helps students identify career opportunities and assists them in creating a path to reach their goals. We'll be with you every step of the way.
You'll always have a home at Eastpointe High School, so even after you graduate you can always reach out to us for help. Need help writing a resume? Need to practice for an interview? Need help finding a job? We'll be there to help!
How We Empower Our Students Within Our Community
Resume Writing
Eastpointe High School helps students create a resume and cover letter to help give students the support they need to start their career path.
Mock Interviews
The interview is a critical part of the employment process. Eastpointe High School will help students prepare and practice for their interview process.
Paid Internship Opportunities
Eastpointe High School will help students find and qualify for paid internship opportunities in the community, helping them gain valuable training and career development.
Post-Graduate Mentoring
(For Current Students and Alumni)
Eastpointe High School's postgraduate mentors provide support and offer advice, guidance and practical tips. They act as a sounding board, helping graduates to focus their thinking and find new ways to explore and solve problems.
College and Career Readiness
High School Graduates often feel overwhelmed when trying to navigate their post High School life; our mentors will help students navigate through educational and career paths with support and guidance. With Eastpointe High School, students are never alone as they take their next steps after graduation.
Supportive Services
(Food, Computer, Transportation Help)
Eastpointe High School staff will help connect students with support services and community resources. We will help them navigate a variety of community resources, such as food boxes, utility assistance, housing, hygiene kits, and other essential services they may need.
In-Person Tutoring
Students are never alone with Eastpointe High School. Our staff is available around the clock to help students with their assignments. Students can schedule an in-person tutoring session or get help virtually through video conferencing.
Life Skills Training
We often take for granted the simple life skills that are needed to successfully venture out into the world. This is why Eastpointe High School helps students gain invaluable life skills training they can take with them as they become leaders in their community.
Family Support Services
At Eastpointe High School, family means as much to us as our students. If families are in need of support, we also offers support services for our students' families, further reaching and positively impacting our community.