Eastpointe High School
Rise Up and Graduate Program
Captivating & Inspiring Success for Arizona Students through Innovation and Flexibility
Learning Center Hours: 8:00am to 4:00pm
Eastpointe High School's Publicly Funded Rise Up and Graduate Program for Teens in Tucson and Phoenix.
The RISE UP™ program is a completely free, academic success program at Eastpointe High School. The program is designed for students aged 16 to 21. RISE UP™ is an innovative, credit recovery and drop-out prevention program which is specifically designed to nurture each of our student's learning potential, and to inspire their success.
Our students participate in a unique learning experience that utilizes non-traditional instructional methods: our goal is to allow our students to complete their course work at their own pace. The program employs standards-based curriculum in science, mathematics, English, and social studies. Each curriculum is designed to stimulate our students through rigorous academic tracks that incorporate real-world learning, individualized instruction, team projects, and personal development.
Eastpointe High School's RISE UP™ program is designed to be unique, innovative, and engaging. Our school's mission is to successfully re-engage those students who may have experienced personal, academic, or social challenges in their lives. The RISE UP™ program provides these types of students with a safe environment to embark on their journey towards recapturing their sense of purpose, regaining their self-esteem, and achieving their academic success.
Are you an Arizona Teen that Needs Help With School?
Catch up or get ahead!
Teachers available around the clock!
Get one on one help virtually or in-person, your choice!
Credit recovery classes, get back on track to graduate!
Completely free, publicly funded program!
We have a caring staff that's available to you. This is your fresh start. We are here to support, encourage, and prepare you for post high school life. Here is your chance to start a new chapter. We'll be with you every step of the way.
"A" Rated Charter High School
The Arizona Department of Education has given an "A" rating to the program.
Flexible Online Curriculum
RISE UP offers students a safe and flexible environment to complete their coursework.
Hybrid Learning
Our online curriculum offers a variety of learning options (hybrid, blended learning and distance learning).
Self-Paced | Credit Recovery
Our students are able to recover credits and also complete new courses at their own pace. This allows students to catch up or get ahead.
Choose Your Graduation Plan
Flexible Credit Recovery and Graduation Program for Arizona Students
RISE UP offers students the flexibility to choose the learning model that's right for their specific needs. All while being a completely free and publicly funded program to make high school education financially accessible to all Arizona students.
Complete Your Credits Entirely Online
Work on Your Credits From Home and at Our Learning Centers
Complete Your Work and Get Help In-Person at Our Learning Centers
How We Empower Our Students Within Our Community
Resume Writing
Eastpointe High School helps students create a resume and cover letter to help give students the support they need to start their career path.
Mock Interviews
The interview is a critical part of the employment process. Eastpointe High School will help students prepare and practice for their interview process.
Paid Internship Opportunities
Eastpointe High School will help students find and qualify for paid internship opportunities in the community, helping them gain valuable training and career development.
Post-Graduate Mentoring
(For Current Students and Alumni)
Eastpointe High School's postgraduate mentors provide support, offer advice, guidance and practical tips. They act as a sounding board, helping graduates to focus their thinking and find new ways to explore and solve problems.
College and Career Readiness
High School Graduates often feel overwhelmed when trying to navigate their post High School life, our mentors will help students navigate through educational and career paths with support and guidance. With Eastpointe High School, students are never alone as they take their next steps after graduation.
Supportive Services
(Food, Computer, Transportation Help)
Eastpointe High School staff will help connect students with support services and has access to community resources. For example, our community partners will be able to provide food boxes, utility assistance, housing, hygiene kits, and other essential resources for students.
In-Person Tutoring
Students are never alone with Eastpointe High School. Our staff is available around the clock to help students with their assignments. Students can schedule a in person tutoring session or get help virtually through video conferencing.
Life Skill Training
We often take for granted the simple life skills that are needed to successfully venture out into the world. This is why Eastpointe High School helps students gain invaluable life skill training they can take with them as they become leaders in their community.
Family Support Services
At Eastpointe High School, family means as much to us as our students. If families are in need of support, we also offers support services for our students' families, further reaching and positively impacting our community.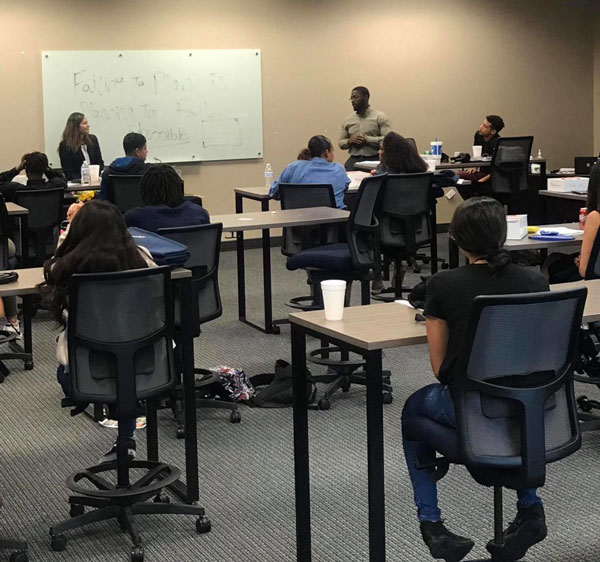 RISE UP Learning Centers in Tucson & Phoenix
RISE UP by Eastpointe High School learning centers are more than just a building. They are safe and nurturing environments. Our learning centers help accommodate students that are looking for smaller class sizes, an effective learning environment, and individualized instruction.
Self Paced, Flexible, and Customized Learning Program
RISE UP by Eastpointe High School provides a better solution to online schooling. We offer mentoring along with self-paced learning to our students to ensure they stay on track and far exceed traditional timelines. Student success is at the heart of our self paced learning program.
Why Our Credit Recovery Program is Needed
More than 18,000 Arizona students who dropped out of high school will cost the state $7.6 billion over their lifetimes, according to a report from Arizona mayors that details the economic devastation.
"High-school dropouts cost Arizona $4.9 billion in lost income; $869 million in health costs; $1.7 billion in crime-related expenses; and $26 million in welfare over their lifetimes…"
Read more about this on our blog:
Frequently Asked Questions
What grades are offered by RISE UP?
RISE UP is a High School program for students aged 16 to 21.
What subjects are offered?
RISE UP offers all common core classes as well as elective credits. We also offer work credit for those students who have a job.
Does the program provide instructional materials like a laptop?
Students will have access to a laptop and all instructional materials will be offered by the school.
Can students work at their own pace?
Yes! Students are able to work at their own pace to catch up or get ahead.
How do I enroll?
Complete the enrollment form HERE to get started with the enrollment process.
RISE UP Program Testimonials
Here's what our students have to say about the Rise Up and Graduate Program
"Eastpointe has helped me in ways no other school could. I feel supported and set up for success here."
"I love it here! Mr. G and staff didn't judge me when I started. I feel like a regular student and I'm now on track to graduate and possibly early. Thank you for believing in me!"
"You've given me hope! I have the best teacher in the world. She is the biggest help and you believe in me that I'll succeed."